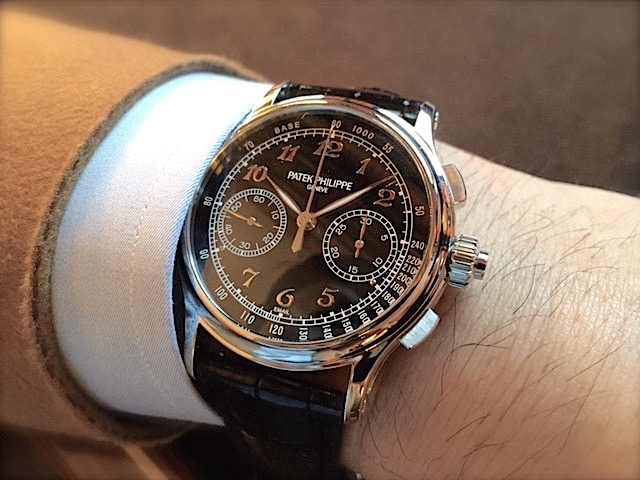 今年の新作で気に為る双璧のもう一方は、黒文字盤

..しかもémail noir!

でブレゲ数字インデックスを擁するsplit second chronograph だ!

複合機でなく単体スプリットでこの趣きは..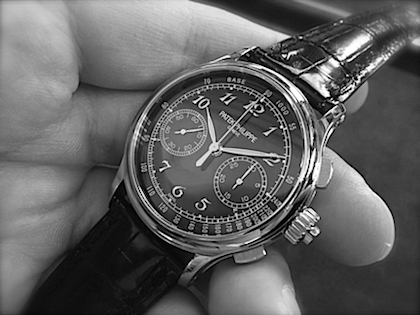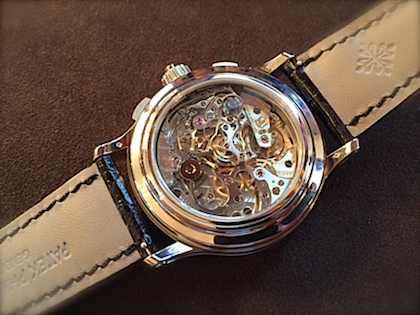 So very traditionalであり、しかも"オトコ

*或いは時計

好き"のする風情に溢れている。

一段一段、階段を昇っている感覚からすれば、まさにこれは'憧れの一つ上のクロノ'であり、且つ究極の一本なのかも知れませんね?

*無論、容易に入手出来るmodelそして金額ではない事は重々承知しておかねばなりませんが(-_-;)。

L/Dさん、私的に今年の新作で一番気になった2モデル、総本山よりの詳報 心より感謝申し上げます。たいへん参考に相成りました! 有難う御座居ました<(_ _)>


..唐突ですが ここで ちょっと加筆/改編させて頂きたいと思います。

HODINKEE

頁から興味ある記事を転載させて頂きます<(_ _)>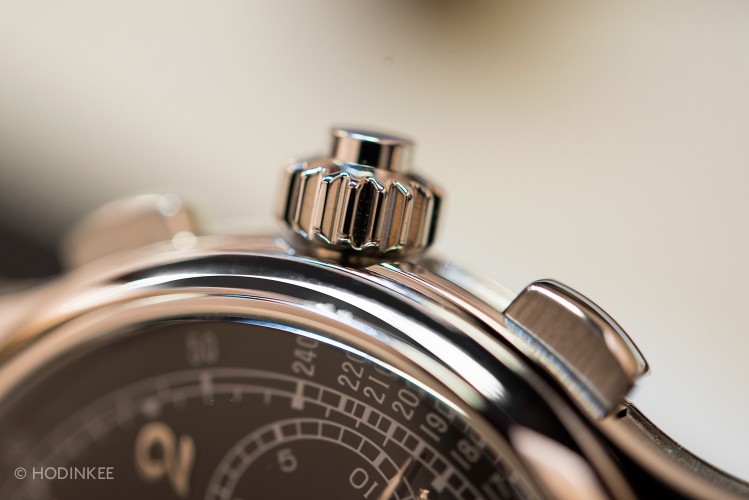 The Patek Philippe 5370P Split-Seconds Chronograph, Arguably The Best Patek In Years
Let's just call it like it is: the 5370 is the best watch Patek Philippe has produced in years. Maybe the best watch since the 5970, or even before. The expression I kept hearing from people I know and respect at Baselworld was "Pure Patek," and I really agree. This is the watch that reminds us that they do care about their past, and about what people want, not just about making sales. The case, the dial, the crown, the caliber – everything on the new 5370 is just plain right. Let's have a look at what it's like in the metal.
At a macro level, the 5370P is so special because it brings together the best of Patek today – an absolutely stunning caliber made entirely in-house – with the best of yesterday – a traditional dial (enamel!) and case and crown that is right out of the 1940s. Let's first remind ourselves that Patek has not made a two-button pure split-seconds since, at the absolute latest, 1971, and by then, we are talking at best special commissions at a rate of less than one example every few years. I'm not talking about the 1563 seen here, but rather the reference 1436, which is, in effect, a 130 with split module. The early examples, like seen in Jean-Claude Biver's personal collection, featured crowns that were themselves the rattrapante activation, while later examples, like seen below, featured a button built right into the crown.
The example seen above is a rare watch signed and sold by Tiffany in 1961 – we covered it here in August 2011 when it was discovered in an Upper East Side sock drawer. What you'll notice about the 1436 is that the case of the 5370 looks just like it. It is absolutely the natural precursor to the watch shown at Baselworld just last week.
Now some of you might be questioning my statement that Patek hasn't made a pure two-button, split-seconds chronograph since the 1436 because of the 5959 and 5950. Those two watches are monopusher rattrapantes, and ultra-slim at that – so hardly a traditional split-seconds chronograph.
So back to the matter at hand. The 5370P features a 41 mm platinum case that is, without a doubt, one of the finest Patek has produced in years. This split-seconds chornograph features a concave bezel that merges perfectly with the soft camber of the sapphire crystal.
The lugs merge with that cause via a gentle curve offset with a stunning horizontal satin finish. At the end of each lug you will find a beautiful white-gold cabochon – clearly a nod to the case of the 1436. Set between the ovaled rectangle chornograph pushers is the "turbine" style crown.
Something I haven't mentioned yet is the balance, beauty, and pure blackness of this dial. The 5370P features an absolutely stunning rich black enamel dial with Breguet numerals. The dial is made in-house by Patek, and takes over three hours just to polish it. The dial is solid white gold, and baked in an oven at 850° C and then allowed to solidify to a glasslike consistency by controlled cooling – the result is an intense black that will not fade with time. The small "email" signature at six o'clock – French for "enamel" – signals this is indeed a very special watch.
Oh, and when you turn it over? Yes, you get a glimpse at what is easily the finest chronograph calibers on the planet. CHR 29-535 PS has, up until this point, only been seen in the 5204, a split-seconds perpetual calendar introduced in 2012. In this case, you get a high-precision technical chronograph in its purest form.
This caliber features a few special rattrapante-only innovations, such as when lap times are stopped, a brand-new isolator uncouples the split-seconds wheel from the chronograph wheel to eliminate unwanted friction. Also, Patek has developed a split-seconds lever that positions a ruby roller between the two flat heart cam shoulders, which keeps the chronograph hand and split hands precisely aligned.
Did I mention that this caliber is absolutely spectacularly finished? The steel components are chamfered and their surfaces straight-grained. The split-seconds clamps are high-polished. The golden-hued movement contrasts beautifully with the bright red bearing jewels, and of course the movement features the Patek Philippe seal and is regulated to -3/+2 seconds per day.
How is the 5370P on the wrist? Wonderful. Yes, this case is 41 mm and would I have preferred it in 39.5 mm like the 5170? I would, but I won't criticize this decision at all because, after all, the 5370P is a split-seconds chronograph with a black dial, and if there was ever a watch to gain a few millimeters, it is this one. The thickness of the entire watch is 13.56 mm, which is not thin, but it also isn't too thick either. With the 41 mm case size, this movement depth balances out quite nicely. It should be noted that this Patek is almost a full two millimeters thinner than Lange's Double-Split, and while 1.8 mm doesn't sound like much, it makes a whole world of a difference on the wrist.
The price of the 5370P in U.S. dollars is $249,200. Patek is saying very, very few of these pieces will be made as they themselves realize just how special a platinum, black enamel dial, Breguet numerals, split-seconds chronograph is. The U.S. estimates it will receive between one and three pieces in all of 2015, for the entire market, and delivery of the first piece should be sometime around July.
The 5370P is absolutely one of the finest watches Patek Philippe has released in years. It is the watch we, as vintage Patek lovers, have been waiting for, and it has done a great deal for inspiring renewed vigor amongst modern Patek collectors. This will go down as a classic.
...これは決定付けられたな
(呟き)